This is an article about Italian eating lifestyle: and we talk about wine pairing with baked sea bream. One of our most beloved "secondo piatto" (your maincourse that we eat after pasta) is the traditional "orata al forno con le patate" (baked sea bream with potatoes). The right wine to match is a dry, fragrant, fresh and savory. Hi, I am Francesca Maisano, an Italian sommelier and, in this article, I propose 6 types of wine that have these characteristics and are ideal for pairing. A suggestion: by clicking on the Pairing Italian Wine and Food tag, you find many interesting ideas about eating and drinking Italian such as Spaghetti with clams (con le vongole) and Pasta with pesto.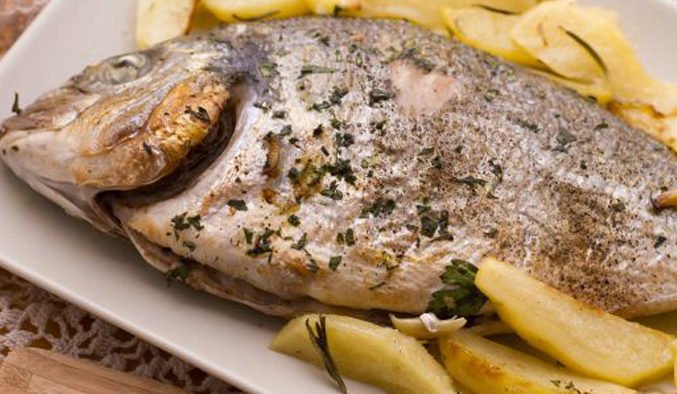 The right wine to pair with baked sea bream: here are 6 types of dry, fragrant, fresh and flavoursome whites
So, the ideal match is with a dry, fragrant, fresh and savory wine. Here are some types from native vines that enhance the flavor of a baked sea bream to the maximum: 1) Trentino Nosiola, 2) Sparkling Colli Piacentini Ortrugo, 3) Verdicchio di Matelica, 4) Langhe Favorita and 5) Elba Bianco. 6) Chardonnay from Alto Adige is also excellent.
5 wines of good Italian cellars
Here are some examples of good wine pairing with baked sea bream. But you can try the same kind of wines from other cellars you find in your favourite wine shops.
Trentino – Nosiola produced by Gino Pedrotti winery (Cavedine – Trento), average price in Italy 13 euros

Emilia Romagna – Ortrugo Dieci Lune produced by Davide Valla winery (Ziano Piacentino – Piacenza), average price 10 euros

Marche – Verdicchio di Matelica del Cerro produced by Belisario winery (Matelica – Macerata), price from 8.50 euros
Tuscany – Elba Bianco produced by Acquabona winery (Portoferraio – Livorno), average price 10 euros
Alto Adige – A.A. Chardonnay Altkirch produced by Colterenzio winery (Appiano – Bolzano), prezzo medio 10 euro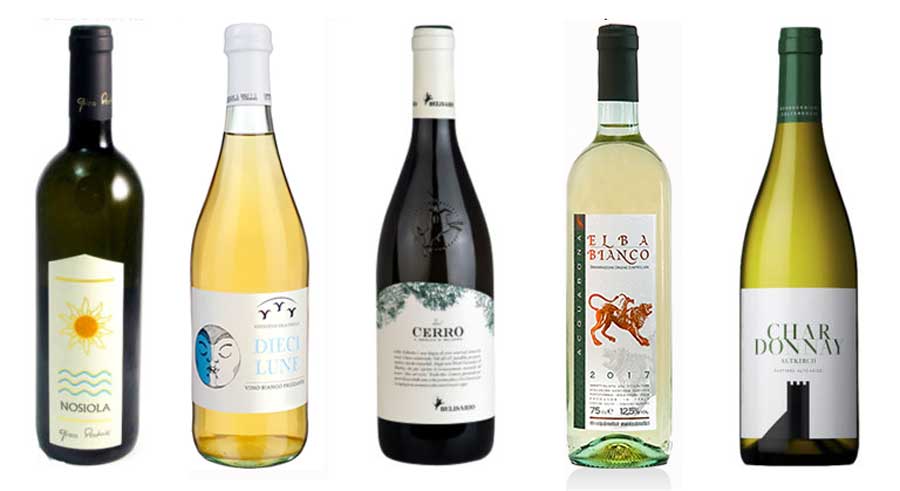 Italian recipe: 

Baked sea bream recipe
Ingredients for 4 people
1 kg sea bream, 8 potatoes, 2 cloves of garlic, 1 sprig of rosemary, 3 bay leaves, 1 teaspoon of dried oregano, 1 lemon, extra virgin olive oil, salt to taste
Method
Prepare the sea bream by removing the fins, then peel the fish under running water.

With a knife, make a cut on the belly to remove the innards (some supermarkets or fishmongers offer these services).

Clean the belly under plenty of running water.

Stuff with the aromatic herbs, two garlic cloves and three thin slices of lemon.

Peel the potatoes and cut them into 4 mm thick slices.

Arrange them in a bowl, add the extra virgin olive oil and salt and mix with your hands.

In a baking tray place the potatoes first, leaving a space in the center for the sea bream.

Place the tray in the preheated oven.

Bake for about 40 minutes at 180 degrees.