Pasta al pesto is a milestone of typical Italian cuisine, in particular from Liguria region. The original recipe is also quick and easy to prepare. The flavors of the ingredients to be taken into consideration for the perfect pairing with wine are those of basil, cheese and extra virgin olive oil. The advice is to choose a young white wine, full of fragrances (possibly herbs), mineral, fresh and medium body. For the match, we prefer regional wines. For example, Pigato and Vermentino. You can also try Sauvignon from Friuli, Muller Thurgau from Trentino and Riesling from Lombardy. Below you find the recipe explained step by step to make pesto at home and 5 white wines of excellent cellars.
1) Liguria – Pigato Riviera Ligure di Ponente della cantina Fontanacota (Pornassio – Imola)
2) Liguria – Vermentino Colli di Luni Il Bianco della cantina Il Torchio (Castelnuovo Magra – La Spezia)
3) Friuli – Sauvignon Friuli Grave della cantina Vigneti le Monde (Prata di Pordenone – Pordenone)
4) Trentino – Muller Thurgau San Lorenz della cantina Bellaveder (Faedo – Trento)
5) Lombardia – Riesling Oltrepo Pavese della cantina I Gessi (Oliva Gessi – Pavia)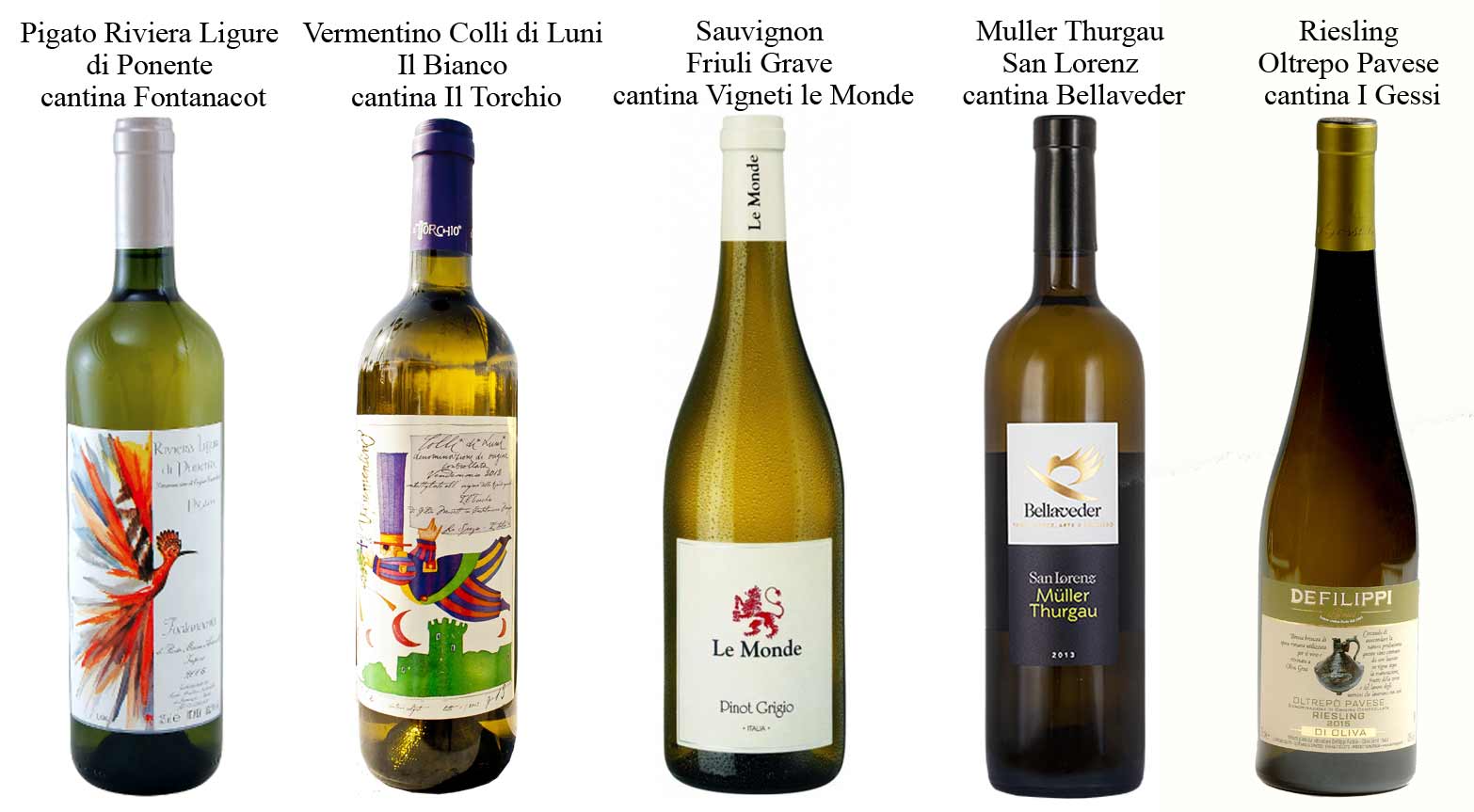 The recipe
Ingredients for 4 persons
500 grams of pasta: the suitable pasta types are many from spaghetti to trenette (a sort of flattened spaghetti typical of Liguria region) to penne rigate (diagonally cut tubes, ridged sides), 50 grams of fresh basil (about 60 leaves), half a glass of extra virgin olive oil, 2 tablespoons of grated Parmigiano Reggiano (or Grana Padano), 2 tablespoons of grated pecorino cheese, 2 cloves of garlic, 1 tablespoon of pine nuts, 5 grains of coarse sea salt. A suggestion, for this dish of the Ligurian tradition you can use two excellent products of the territory: Basilico Genovese DOP and oil of the Ligurian Riviera.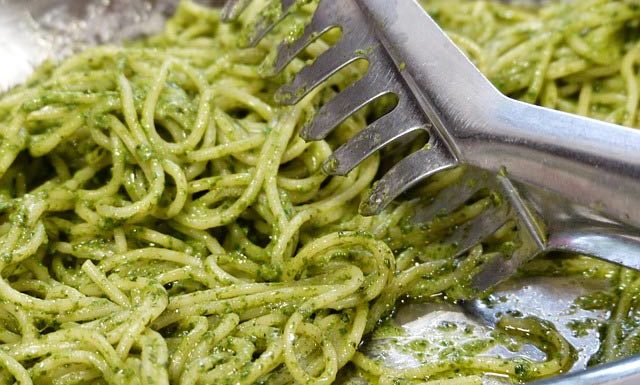 On the market, there are ready-made pesto packages, but the aromas of the freshly hand-made pesto have no comparison.
The recipe is simple, starting with the ingredients: only 7. Tradition requires the use of marble mortar and wooden pestle, but it's fine to use a cooking blender too.
Let's begin! Put a pot with water on the fire, and meanwhile start preparing the pesto cream.
Put in the mortar or in the cooking blender 2 cloves of garlic, 5 grains of coarse sea salt and a number of pine nuts equivalent to a kitchen spoon.
Mix until the consistency is that of a cream.
Add the basil leaves (washed and dried) to extract the essential oils of the basil.
When the mixture is homogeneous, you can add Parmigiano Reggiano, Pecorino Sardo and extra-virgin olive oil poured in drops.
Mix all the ingredients and the pesto cream is ready!
Now, cook the pasta you prefer in the salted boiling water.
Drain the pasta 1 minute before the cooking time (very important), saving one cup of hot water.
Toss the pasta into the pot again and add pesto cream.
This step is very important for the final result! Mix the pasta with the pesto cream for one minute, adding hot water previously saved if necessary.
Now your original pasta al pesto recipe is ready. For a better experience, serve the wine at 8-10 degrees.