Are you in love with Italian food and wine? Here is one of the most beloved recipe: spaghetti con le vongole (with clams). And the good news is that is very easy to cook. The right wine to match is white, fresh and dry (not sweet) like Chardonnay. Hi, I am Francesca Maisano, an Italian sommelier and in this article, I propose some types of wine that have these characteristics and are ideal for pairing. For convenience I also add a link to a very good website of true Italian recipes. A suggestion that may come in handy: by clicking on the Pairing Italian Wine and Food tag at the bottom of the article, you will find many interesting ideas about eating and drinking Italian.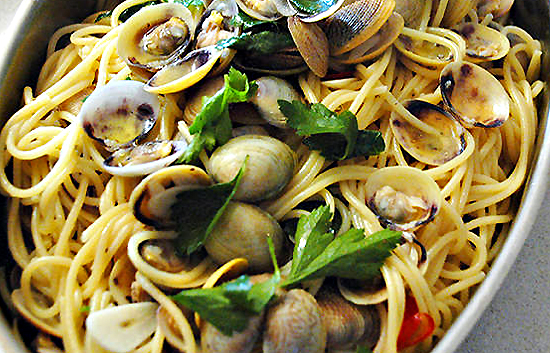 What to drink with spaghetti with clams
If you want to taste the perfect Italian combination, my advise is to try Soave from Veneto, Collio Sauvignon from Friuli and Verdicchio dei Colli di Jesi from Marche. If the clams are "veraci" (a variety) you can also choose Greco di Tufo from Campania and Vermentino di Sardegna from Sardinia.
5 white wines of good cellars in Italy
Here are some examples of good wine pairing with pasta al pesto real italian recipe. But you can try the same kind of wines from other cellars you find in your favourite wine shops.
1) Soave Classico Costeggiola Guerrieri Rizzardi
2) Verdicchio dei Castelli di Jesi Classico Le Coste del Molino Monteschiavo
3) Collio Sauvignon Anzelin
4) Greco di Tufo Cantine di Marzo
5) Vermentino di Sardegna I Fiori Pala