Are you in love with Italian food and wine? Here is one of the most beloved recipe: Pasta alla Gricia (Rigatoni with guanciale). It is one of the most famous dishes of Lazio cuisine, considered the ancestor of Amatriciana. The right wine to match is a dry, soft, comfortable, inviting and elegant white wine. Hi, I am Francesca Maisano, an Italian sommelier and, in this article, I propose some types of wine that have these characteristics and are ideal for pairing. I also add a link to a very good website that shows you the true Italian Pasta alla Gricia recipe. A suggestion that may come in handy: by clicking on the Pairing Italian Wine and Food tag, you will find many interesting ideas about eating and drinking Italian such as Spaghetti with clams and Pasta al pesto.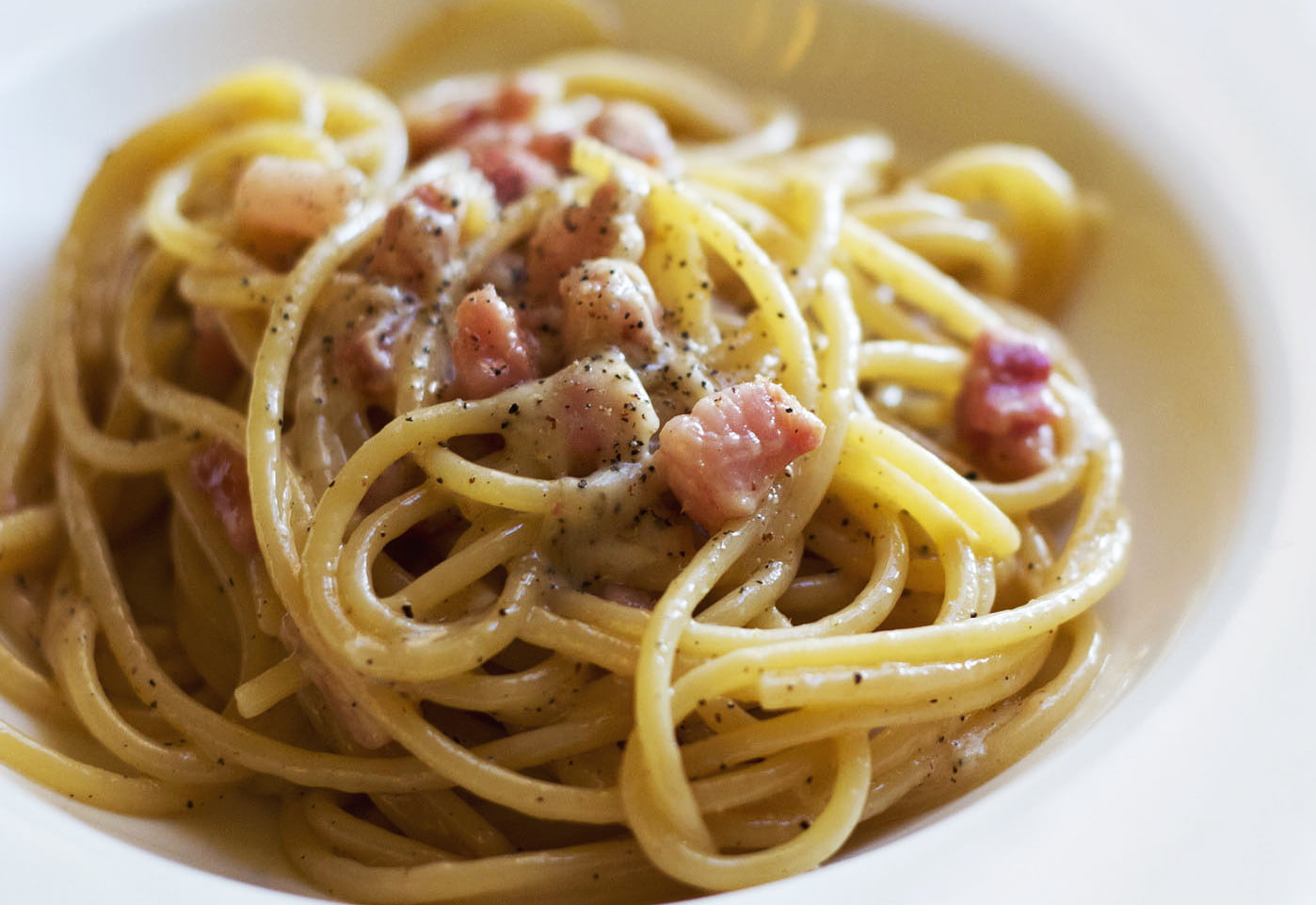 What to drink with Pasta alla Gricia (Rigatoni with guanciale)
So, as I told you before, you need a dry, soft, comfortable, inviting and elegant white wine. If you want to taste the perfect Italian combination, my advise is to try regional wines: infact, the recipe is traditional of Lazio. For example, Frascati Superiore DOCG wines, made from Malvasia Bianca di Candia grapes and/or Malvasia del Lazio grapes, both making up at least 70% of the blend.  Try even the Verdicchio di Matelica produced in Marche and the Collio Sauvignon from Friuli Venezia Giulia: perfect to match this traditional Italian recipe. But also an important Trebbiano from Abruzzo.
5 wines of good Italian cellars
Here are some examples of good wine pairing with pasta and potatoes. But you can try the same kind of wines from other cellars you find in your favourite wine shops.
Lazio – Frascati Superiore Riserva DOCG Epos from traditional grapes as Malvasia di Candia, Malvasia del Lazio and Trebbiano grapes, made by Poggio le Volpi winery in Monteporzio Catone (Rome) price in Italy 13 euros.
Lazio – Montecompatri Superiore DOC Virtù Romane from traditional grapes as Malvasia Puntinata, Trebbiano, Bellone and Bonvino, made by Tenuta Le Quinte in Montecompatri (Rome), price in Italy 12 euros.
Marche – Verdicchio di Matelica DOC Terra di Mezzo from traditional grape Verdicchio 100%, made by Monacesca winery in Matelica (Macerata) price in Italy 18 euros.
Friuli – Sauvignon Collio DOC from 100% Sauvignon grapes, made by Tiare winery di Dolegna del Collio (Gorizia) price in Italy 19 euro.
Abruzzo – Trebbiano d'Abruzzo DOC from traditional grape Trebbiano 100%, made by Valentini winery in Loreto Aprutino (Pescara), price starts from 90 euros.