It is considered one of the best red wines in the world. In Italy we call it "vino da meditazione" that is literally "meditation wine". Velvety, opulent, round, Amarone della Valpolicella is a DOCG wine produced only in Veneto with the Corvina, Corvinone and Rondinella vines. Perhaps, not everyone knows that it is a dried passito: that is, it is not sweet, like, for example, that of Pantelleria.
Let's find out more about this iconic Italian wine, starting with the aromas, passing through the most suitable matching, up to the best wineries. Or click here to know more about What is a "vino da meditazione"?
What are the sensations when you drink an Amarone wine?
A typical Amarone is striking for its aromatic intensity and complexity. The scent of dried plums and cherries is intertwined with the freshness and depth of the scents of the forest undergrowth. Every time the nose approaches the glass new suggestions always emerge: now the dried mushrooms, now the blood-iron notes, now sensations of cocoa. Rich flavor and a silky, sumptuous texture dominates the palate. Perceptible ripe red fruit embellished with spices such as cinnamon and vanilla. With the refinement it widens the taste-olfactory spectrum to perceptions of leather, tanned tobacco and toasted coffee.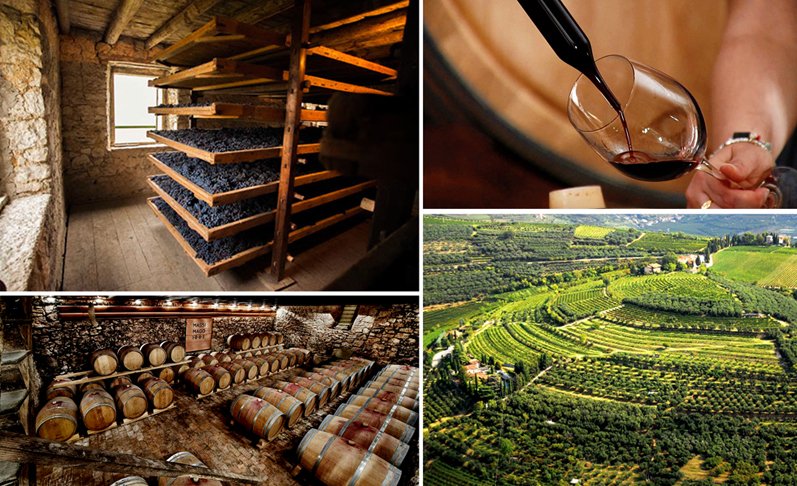 The best match: great with red meat, superb alone
Amarone wine is the ideal match with red meat, prepared with slow cooking methods such as stewing and brazing. It is also a great companion of elaborate second courses based on feathered game such as pheasant with walnuts and truffles or woodcock on crusts. There is also an excellent affinity with very refined and tasty cheeses such as Taleggio, Reblochon, Quartirolo, Murazzano and Formaggio di Fossa. But first of all it is one of that wines that you can drink alone. In fact, it is considered a "meditation" wine, to be sipped slowly in an intimate and relaxing setting.
Amarone wine is produced exclusively in a small area in north Italy
When we talk about Amarone, we talk about Valpolicella: the Veronese piedmont belt that develops in 13 valleys and extends from Lake Garda to almost the border with the province of Vicenza. In addition, the specification of the DOCG Amarone establishes two sub-areas: Classico and Valpantena. For Classico we mean the more traditional territory, while Valpantena indicates a valley, which divides the Valpolicella Classica from the eastern one.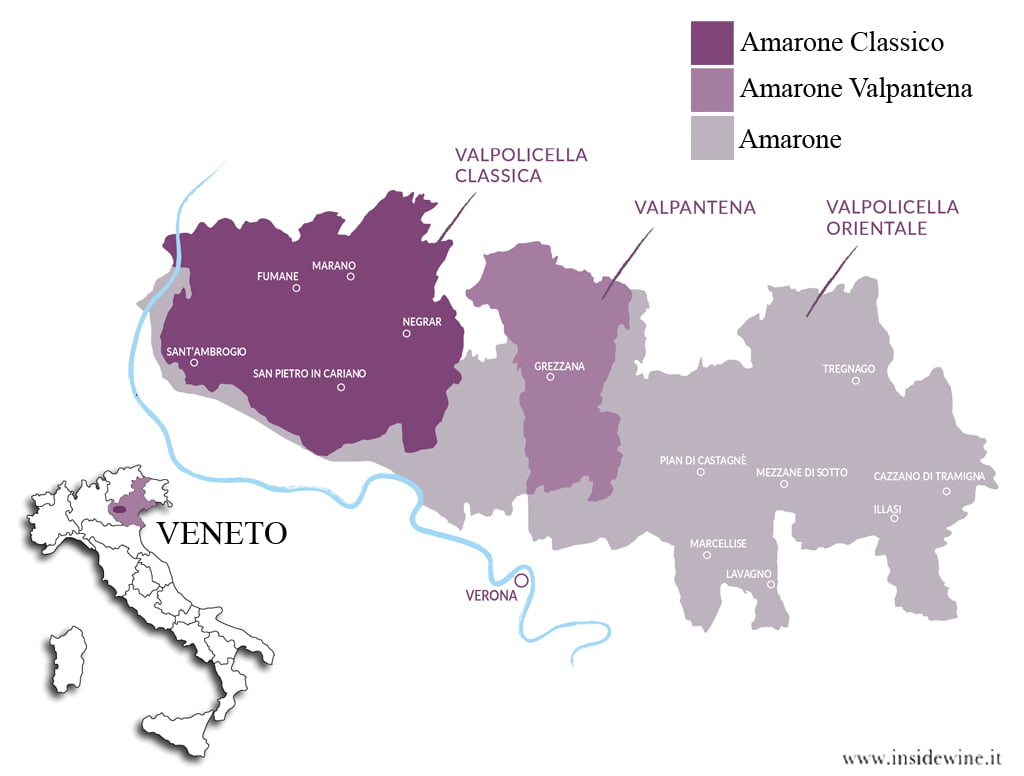 But what are the best wineries?
Among the great wineries that produce Amarone della Valpolicella DOCG and which offer tasting routes and guided tours are:
Allegrini Fumare VR
Musella San Martino Buon Albergo VR
Zenato Peschiera del Garda VR
Venturini  San Floriano VR
Masi Gargagnago di Valpolicella VR
Pieropan Soave VR
Antolini Marano di Valpolicella VR